Description
EARLY BIRD PRE-SALE: Pre-order now and save! Join our mailing list to receive your early bird pre-order coupon. Click here.
New! Easy setup! Opens and closes your coop door at sunrise and sunset for your location, which is detected automagically during setup using your phone's built-in GPS. Add the monitoring subscription to enable phone notifications and remote operation.
Already have a door opener? Use SecureCoop without a motor to monitor it! Turn your dumb opener into a smart opener with SecureCoop!
Free shipping!
Includes a free bag of chicken treats, yours to keep even if you return your SecureCoop.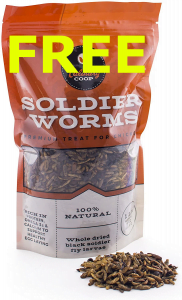 NO LOST BIRDS. If you ever have an issue with SecureCoop that we don't notify you about which causes you to lose a bird, we will replace that bird. (Up to 20 birds valued at up to $5 each. Requires monitoring subscription.)
Includes:
Obstruction detector (with motor)
Door position sensors
Central processing unit
Mounting screws
Motor mounts (with motor)
Solar panel
103-day money-back guarantee
Five-year warranty
NOTE: The monitoring subscription is required to enable the notifications which notify you when the door opens/closes or if there is some issue. The door will still open at sunrise and close at sunset without this, but this service is required for notifications on open/close/issues. The "NO LOST BIRDS" guarantee does not apply without a subscription.